Elevator Equipment Repair
SERVING ALL OF CONNECTICUT
Non-functioning elevators aren't just an inconvenience; they can also be a costly, ongoing source of frustration and embarrassment for tenants, guests and owners.
If a problem strikes, immediate action is key. That's why New England's skilled technicians are on call 24/7, ready to provide you with a wide range of repairs.
New England Elevator has the experience to repair any aspect of your cable or hydraulic elevator no matter the brand or age. We have access to elevator parts ranging from 70 year old basement drum machines to newly installed solid state overhead traction elevators. This means that we are able to quickly repair most elevator problems associated with aging elevators obsolescence, vandalism, and water damage saving you down time and helping reducing customer complaints.
Our Repair Services Include: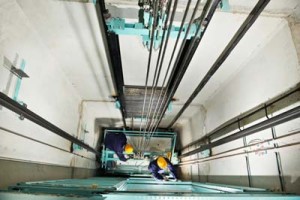 Hydraulic Cylinder Replacement
Power Unit Replacement
Door Equipment Replacement
Signal Fixture replacement
Main Valve replacement
Inspection Violation repairs
Cosmetic Upgrades
Hydraulic pressure leaks in oil lines.
Motor replacement
Elevator Door Replacement
and more…
Call us today at 855-333-6332 or
use the form below

 to send us email