ABOUT NEW ENGLAND ELEVATOR
COMMERCIAL ELEVATOR SERVICE ACROSS CONNECTICUT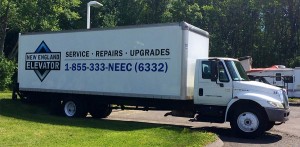 The mission of New England Elevator is to ensure the safe and reliable operation of your vertical transportation equipment. We establish successful and long-lasting partnerships with our customers based on our exceptional quality of service, reliability, and trust. To help fulfill this mission, we strive to exceed our customers expectations, maintain frequent communication, and offer fair and competitive pricing.
New England Elevator was founded by professionals driven by a passion and commitment to manage their elevator service business differently. After 30 years of experience with the industry's leaders, our ownership team formed New England Elevator with a strong belief in the value of honesty and integrity, and in providing better service, better communication, and a better value to customers.
New England Elevator specializes in commercial elevator repair, installation, modernization and maintenance (we do not service or install residential elevators) and are proud to be the largest independent elevator company headquartered in Connecticut.
Industry standards for the frequency and duration of maintenance inspections have steadily declined over the past 15 years. What makes us different? We believe maintenance is the key component to passenger safety, dependability, and to extending the life of your equipment. Simply put, regularly scheduled maintenance inspections reduce inconvenient and untimely shut downs, and give you peace of mind.
New England Elevator's highly skilled team of experts, including a QEI Certified Inspector, provide the professional, unparalleled service you expect with the personalized attention you deserve. We are independent, locally owned and operated, and are here to serve you 24 hours a day, 7 days a week. We take great pride in our accomplishments and build on them every day.
Call us today at 855-333-6332 or
use the form below

 to send us email